18 Slot Black Floor Stand Prize Wheel
Trade Show Spinning Games for Giveaways
18 Slot Black 31" Floor Stand Prize Wheel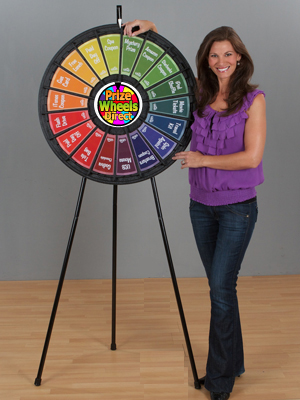 Enjoy the thrill of spinning an interactive spinning 18 Slot Black Floor Stand Prize Wheel!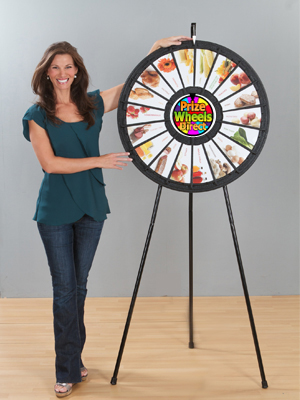 18 Slot Black Floor Stand Prize Wheel - Spinning Prize Wheel Games!
Spin the Wheel at Your Next Event! The most versatile of all interactive games is the Prize Wheel, also known as a spinning wheel. The 18-Slot Black Floor Model Prize Wheel is an absolute crowd pleaser! This game wheel attracts a crowd for any office meeting, tradeshow, annual sales meeting, on-location radio broadcast, wedding, carnival, fundraiser, or outdoor event. The prize wheel is especially designed to allow party planners to create event fun and creativity that is unique to their event setting.
Spin the Wheel in any Space! Regardless of how much space you anticipate to have in your meeting room or event location, you can be sure that this prize wheel will fit in that area well! The unique design of the spinning wheel's tripod legs is that they are detachable. If you don't have standing room, this floor model gaming wheel will convert into a table top model.
Travel with Your Game Wheel For event coordinators, event facilitators and event planners who must travel to multiple destinations throughout the year, this "Spin the wheel" game is easily transported. The prize wheel is light weight and it has been designed for a unique prize wheel travel case. The Prize Wheel Travel Case has recessed foam lining to snuggly protect the prize wheel during travel. The Prize Wheel Travel Case is a must-have accessory for on-the-go corporate planners.
Create Your Own Prizes A gaming wheel can be used for multiple events and it is recommended to make the customized prizes distinct and artistic.The prize wheel's slots are customizable using easy and free templates. With just a little time and planning, you can change your game wheel slots in minutes.
Package- 18 Slot Floor Stand Prize Wheel

Get Better ROI with your very own
Adaptable Table Top Prize Wheel!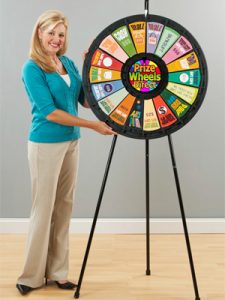 – FAST EASY ASSEMBLY
This model comes with the adjustable, sturdy tripod legs. Made of high quality powder-coated steel.
– STRONG STRUCTURE
Prize Wheel is made from ABS and PETG plastics.
– DURABLE CLICKER
Prize Wheel includes a pointer that "clicks" between each slot; 12-slots per rotation.
Clicker made of durable nylon and is long lasting.
– EASY CUSTOMIZATION
Use our easy-to-use templates created in MS Word and Adobe Illustrator.
Templates available online.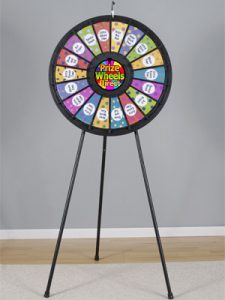 – TRANSPORTABLE
Prize Wheel can be easily transported in our size specific Prize Wheel Travel Case.
– MADE READY TO USE
Order this prize wheel with a travel case, & we will assemble and ship it inside the case
– PRODUCT WEIGHT: Light weight 11.5 lbs.
– PRODUCT DIMENSIONS:
31 "W X 73.5″H X 33.5″D
– COLOR: Black
– SHIPS within 48 hours.

We customize any size wheel, any color, with or without your logo. In house design services available or use your camera ready artwork for this Prize Wheel. Contact 800-573-3111 for a custom quote.