Adaptable Table Top Prize Wheel
Trade Show Spinning Games for Giveaways
12-24 Slot Adaptable 31" Table Top Prize Wheel
The New Adaptable Prize Wheel is Fun Filled Action!
The most versatile of all interactive games is the Prize Wheel, also known as a spinning wheel. The NEW 12 to 24 Slot Adaptable Table Top Prize Wheel is an absolute crowd pleaser! This game wheel attracts a crowd for any office meeting, tradeshow, annual sales meeting, on-location radio broadcast, wedding, carnival, fundraiser, or outdoor event. The prize wheel is especially designed to allow party planners to create event fun and creativity that is unique to their event setting.
This Prize Wheel allows you to select any number of prize cards between 12 and 24. Prize wheels are typically made up of a number of slots containing various prizes and awards. Winning offerings on a spinning wheel could be a combination of various products, gift vouchers, or special discount coupons. With any combination of prize slots from 12 to 24 on this particular prize wheel, playing the spin the wheel brings fun, excitement and unpredictability to meetings and events. With every prize wheel having the ability to customize the prize slots, the prize wheel is a great investment too that can be used over and over again.
Package (1) – 12-24 Slot Adaptable Black 31″ Table TopPrize Wheel
Travel With Your Adaptable Game Wheel!
For event coordinators, event facilitators and event planner who must travel to multiple destinations throughout the year, this "Spin the Wheel" game is easily transported. The prize wheel is light weight and has a custom designed prize wheel travel case [available for purchase separately], which features recessed foam lining to snuggly protect the prize wheel during travel. The Prize Wheel is a must-have accessory for on-the-go corporate planners.

Get Better ROI with your very own
Adaptable Table Top Prize Wheel!
Table Top Prize Wheels Feature: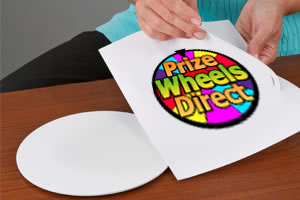 – EASY ASSEMBLY: With a sturdy tripod style stand made of high quality powder-coated steel.
– TOUGH WHEEL: Prize Wheel is made from ABS and PETG plastics.
– DURABLE CLICKER [Two Options Included]
Prize Wheel includes a pointer that "clicks" between each slot; 24-clicks per rotation. Clicker[s] made of durable nylon and is virtually unbreakable
Choose a clicker based on louder vs softer sound, or short vs long spins.
– EASY CUSTOMIZATION
Customize prize slots. Use our easy-to-use templates created in MS Word and Adobe Illustrator. Templates available online.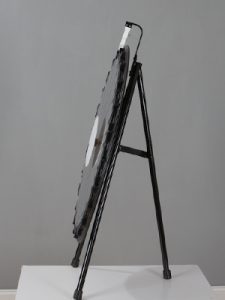 – TRANSPORTABLE: Prize Wheel can be easily transported in our size specific Prize Wheel Travel Case.
– PRODUCT WEIGHT: Light weight 11.5 lbs.
– PRODUCT DIMENSIONS: 31″W X 41″H X 16.5″D
– COLOR: Black
– SHIPS within 48 hours.

The Adaptable Table Top Prize Wheel is great for boosting sales at Trade Shows, Business Expos, Charity Fundraisers, Special Events, and Convention Booths!
We customize any size wheel, any color, with or without your logo. In house design services available or use your camera ready artwork for Adaptable Table Top Prize Wheels. Contact 800-573-3111 for a custom quote.