Big Floor Stand Prize Wheels
Trade Show Spinning Games for Giveaways
15-30 Slot Black 40" Big Floor Stand Prize Wheel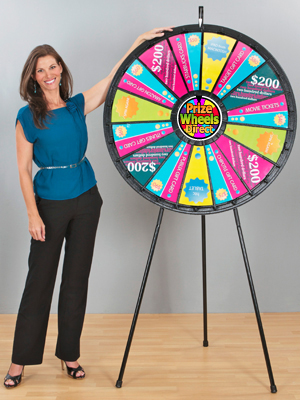 Enjoy the thrill of spinning an interactive spinning Black Floor Stand Prize Wheels!
Big Floor Stand Prize Wheels - The 15-30 BIG Prize Wheel...
Is our largest measuring 40″ in diameter. Standing over 6 feet high, the BIG Prize Wheel draws a crowd at the office, tradeshow, a store, an annual meeting, a wedding or any other event. The clicking sound builds excitement as it spins!
Assembly is easy with a sturdy tripod style stand made of high quality powder-coated steel. All of our wheels are made of a combination of extra tough ABS plastic and durable PETG plastic. The clicker itself is made of virtually unbreakable nylon plastic, able to withstand thousands of spins. Choose from two clickers that allow for either more spins and less sound, or fewer spins and more sound. See Assembly instructions for details on the clickers.
Package 1 - 15-30 40 Big Floor Stand Prize Wheel
Get Better ROI with your very own
Adaptable Table Top Prize Wheel!
Big Prize Wheel Floor Stand Features: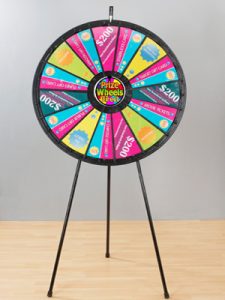 – FAST EASY ASSEMBLY: With a sturdy tripod style stand made of high quality powder-coated steel.
– TOUGH WHEEL: Prize Wheel is made from ABS and PETG plastics.
– DURABLE CLICKER: Prize Wheel includes a pointer that "clicks" between each slot; 30-clicks per rotation.
– EASY CUSTOMIZATION: 15-30 customizable prize slots and center plate for logo or text. Customize prize slots. Use our easy-to-use templates created in MS Word and Adobe Illustrator.
– PRODUCT WEIGHT: 20 lbs.
– PRODUCT DIMENSIONS: 40″W X 78.5″H X 33.5″D
– COLOR: Black
– SHIPS: within 48 hours and it ships in two packages

We customize any size wheel, any color, with or without your logo. In house design services available or use your camera ready artwork for this Prize Wheel. Contact 800-573-3111 for a custom quote.